Columbus Ohio Basement Crack Repair
Jaco Waterproofing has been repairing basement wall cracks for over 30 years. Our professional and skilled technicians will quickly perform an affordable repair from the inside of your basement to make the crack waterproof. Basement cracks that leak water can be quickly fixed at a low cost.
Jaco uses basement crack repair materials by Applied Technologies
Basement Crack Waterproofing
The concrete foundation of your home creates the basement area that you live in. When this foundation cracks, water can leak into the basement. Water in the basement causes mold, mildew and unpleasant odors
There are many causes of a concrete foundation crack. You should know that most of the cracks can be repaired from the inside. Your home will not need to be disturbed on the outside. This basement crack repair is a low cost process that is quick and very clean.
We will repair your leaking cracked concrete wall by injecting a liquid polyurethane into it. This liquid polyurethane expands inside the foundation crack on contact with water to form a closed cell foam. This closed cell foam fills the leaking basement crack from top to bottom and front to back. When completed your basement wall crack will be waterproof.
Foundation Crack Repair Advantages
Stop leaking water
Economical for the owner
Fast Repair
All work done on the inside
Clean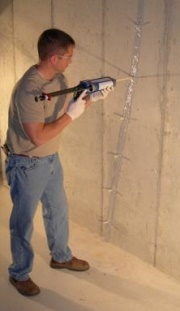 Basement Wall Crack Repair
Concrete basement and foundation crack repair is done from the inside of the basement. A technician will not have to dig up the foundation on the outside. The concrete basement crack is filled entirely by the liquid polyurethane. The liquid polyurethane expands on contact with water inside the foundation crack and seals the basement wall crack.
Once completed the foundation crack will not leak, water will not enter your basement and your possesions will be safe.