Columbus Ohio Foundation Stabilization Contractor
Jaco Waterproofing has a trained and professional staff that can repair your unstable foundation. Don't let the situation get worse by not doing anything. Call Jaco to get a free estimate on the solution to your problem. Once the work is done your can rest assured that the job is done right the first time.
A cracked foundation can begin settling and lead to the structural failure of your home. Foundation piers can stabilize your basement. The helical or push piers can even lift your foundation. When this is done you may even be able to close crooked doors inside the home.
If you notice cracks in your dry wall, ceilings or foundation, you may have a settling problem. Sticking doors and windows are another symptom of a foundation that must be stabilized. Also, cracks in masonry, brick and mortar are sure signs or a failing foundation.
Columbus Foundation Piering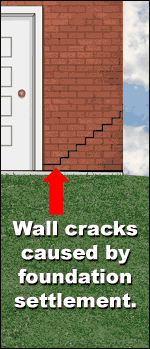 Foundation movement may result from a wide range of factors, which can include:
Shrinking or swelling of clays caused by changes in moisture content
Compression of a soft layer in the ground as a result of the applied foundation loads
Soil softening
Frost heave
Improper back filling
Variation in groundwater levels
Erosion
Vibration from nearby construction
Hydrostatic Pressure
Jaco Waterproofing installs pre-engineered helical and steel piles to stabilize and lift sinking foundations.
Signs of Foundation Failure

Inside of House
Cracks in drywall or ceilings
Sticking windows and doors
Cracks in concrete floors
Gaps around door and windows
Misaligned doors and windows
Sloped floors
Outside of House
Gaps around doors and windows
Cracks in foundation
Stair step racks in brick mortar
Fascia board pulling away
Chimneys are tilting or leaning
Water ponding around the foundation
Soil separation around the foundation
Garage
Separation cracks between the floor and walls
Walls rotating outward
Slopping floors
Basement
Walls leaning in or out
Bowed walls
Cracks in the poured or block walls
Water leakage through cracks at base of walls
Cracked floors
Seal plate separation
Water stains on floors and walls
Crawl Space
Cracks in the foundation
Bowing walls
Tilting or leaning walls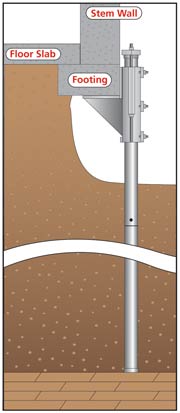 Steel piers are an excellent choice for most foundation repair issues which are either caused by organic soils, swelling clays, poor compaction, improper footer embedment, and erosion or run off. Steel piers, also know as push piers, mini-piles or resistance piers are an economical and permanent solution for your home. Steel piers are an end bearing pier that does not rely on the soils skin friction to provide support. These underpinning piers are able to develop a factor of safety due to the fact that they are individually load test during installation.
The Steel Pier underpinning products are driven hydraulically into the soil, lifting the structure's foundation, then the top bracket is capped - permanently holding the structure in place.
Read More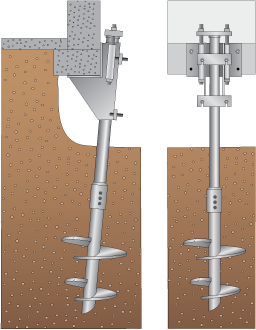 Helical piers have been in use for the stabilization of foundations since the early 1800's. The original helical pier was designed as a wooden shaft with an iron helix for use in lighthouse foundations. Helical piers have the capacity and in certain soils the advantages to support your home for years to come. They are quick to install and are an excellent choice for foundation repair and stabilization where limestone and/or load bearing strata are not easily accessible.Helical piles or piers can also be used in new home construction in the place of old fashioned concrete piers. They offer an economical choice of underpinning and allow for tight construction schedules to be kept.
Helical Torque Anchors
These screw pile products are driven into the soil with hydraulic torque motors and can be used to raise an existing foundation or in new construction to prevent foundation settling.