Columbus, OH Concrete Lifting
Jaco can repair your sunken concrete slab for much less than a total tear out and replacement. Jaco's slabjacking is fast, clean and economical. Our slabjacking process raises sunken concrete slabs, patios, sidewalks, driveways and stoops back to their original level.
Sunken concrete slabs such as patios, sidewalks and driveways can be lifted and leveled. Our trained technicians can quickly lift your concrete to make it safe and presentable. If you are looking to sell your home, concrete lifting can be a low cost way to improve it.
10 Reasons to Choose Slabjacking Over Replacement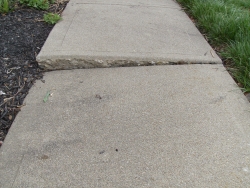 It is a relatively quick and easy process
The slurry used to raise the slab provides a stable base, thus strengthening the foundation for the slab.
Low cost: The cost to raise the concrete slab to its original position is typically a third to half the cost compared to replacement.
Since slabs are not being removed, there is very little mess or inconvenience.
No loss of use: This technique allows the client to use the slab immediately. If the slab is replaced the concrete has to cure for a minimum of 28 days.
There is no waste involved, compared to slab replacement, where the removed material will end up in the landfill - results are better environmentally.
There is no noisy concrete breaking, with its associated dust and debris.
Mudjacking can be performed in almost any weather conditions.
Surrounding grass is not dug up, so there is no reseeding and waiting for new grass to grow.
Because the old slabs are still there, the color of the concrete remains constant.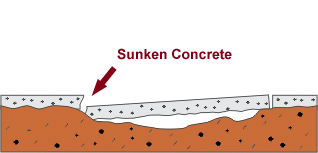 The technology to lift concrete is centuries old. It is the same technology that is used to raise your car on a hydraulic lift at the car repair garage .Holes are drilled through the tilted concrete, usually one to two inches in diameter. A mixture of mortar and water is then pumped into these holes under pressure. This mixture has the consistency of a thick mortar. As it begins to flow beneath the slab, it exerts an equal pressure on every square inch of the concrete. Thus, if the pump produces just 50 to 100 pounds per square inch pressure (which isn't much) it can easily raise the slab.