Columbus, OH Basement Waterproofing
Your basement can provide the extra living space that you need for a rec room, entertainment room or family area. Of course you will want to have the peace of mind that your wet basement will stay dry for years to come.
Jaco Waterproofing has been waterproofing wet basements for over 30 years. Our professional and courteous staff will quickly diagnose the problem of your wet basement and recommend an affordable solution. All work is performed by experienced staff who have your needs in mind.
Areas Where Water Can Enter Your Basement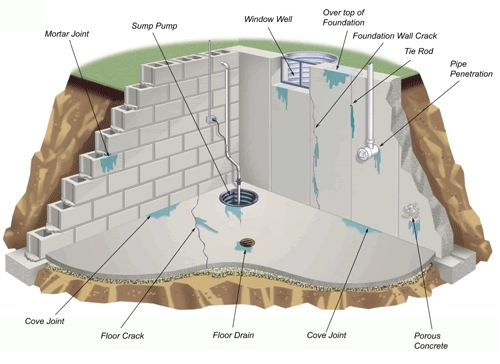 Water can find its way into a basement in many different ways. As this diagram shows, it is possible for water to come through foundation walls, basement wall cracks, and even up from under the basement floor.
Water entering a basement is a common problem for home owners. Foundations made of stone, concrete block or concrete can let in water. This leads to water damage, mold, mildew and poor air quality. Jaco will develop an affordable solution for you and your home.
What Causes Your Basement to Leak?
During rains the water table surrounding your home rises. It can actually be higher than the floor of your basement. In an inadequately waterproofed basement the water can find its way in through a variety of areas. The water can show up by leaking through cracks in the floor or walls.
Interior Basement Waterproofing Process
Basements that have water leaks are repaired from the inside. It is far less expensive and easier than excavating the outside of the house for the repair.
The repair is the same for basements that have leaks through the wall-floor joint, floor cracks or block walls. A new and functioning interior drainage system will be installed. This interior drainage collects the water in a pipe that is buried under the floor. There it is channeled to a sump pump which then removes the water from the home.
Battery Back Up Sump Pumps
When a storm cuts off electrical power to your home a standard sump pump will not be able to work. Water can then quickly flow into the basement. Ask Jaco to install a battery back up system for your sump pump that maintains power to your sump pump and your basement stays dry!
Limited Lifetime Warranty
Get your basement back with the peace of mind that Jaco backs its interior basement waterproofing system installation with a Limited Lifetime Warranty.
Special Offer -10% Off Interior Waterproofing System*
* Offer not valid with any other promotion